Informationterminals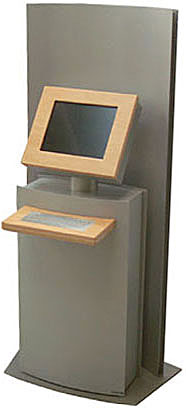 This housing was developed for prestigious interior areas and meets the highest standards for design, individuality and functionality.
It is a true work of art that fascinates users and onlookers with its unique shape and exclusive material combination of painted stainless steel and aluminium.
You no longer need to bring brochures and other printed company information to trade fairs. Our information terminals for interactive presentations at trade fairs are not just attractive. They turn your stand into an attraction.
They can also be used as an interactive concierge, e.g. for orientation in large office buildings to facilitate finding the right contact person.
Of course, your info information terminal also doubles as an Internet terminal in your foyer, for example. The best and most up-to-date presentation of your business is your website. But it is often difficult to present your website to your customers at your premises, especially in places where your company appearance is of key importance to you. Our Internet terminal makes your website accessible anywhere you want ...
Technical data:
Dimensions: depending on version, about 700 x 1800 x 400mm
Weight: about 80 kg (housing + monitor + PC)
Colour: standard colours or RAL colours
Standard: integrated multimedia PC with variable configuration
15" flat screen
2 integrated stereo speakers
CD-ROM
Hard drive
3.5" floppy disk
Printer interface
Serial interface
Mouse
Keyboard
Special features: touch screen
Integrated heavy-duty stainless steel keyboard
NIC